The collection of the Museum of Art, Kochi includes a total of more than 41,000 works by approximately 440 artists from Japan and abroad. Some of the most important artists represented in the museum's collection are introduced below.
Ishimoto Yasuhiro Collection
Ishimoto Yasuhiro is a photographer related to Kochi.
During his lifetime and after his death, the Museum of Art, Kochi has received stepwise donations of the photographer's works directly from Ishimoto and from his family. In addition to 34,753 prints, the collection today includes ca. 100,000 pieces of negative film and 50,000 pieces of positive film, as well as other materials. As a collection of works by one single artist at a public art museum, the Ishimoto Yasuhiro Collection is truly exceptional in terms of both quality and quantity.

Ishimoto Yasuhiro
1921-2012
Born 1921 in San Francisco. Left the USA to relocate with his parents to their Japanese home in kochi prefecture at the age of three. Graduated from Kochi Prefectural Agricultural High School in 1939. Returned to America in the same year, shortly before the Pacific War broke out and Ishimoto experienced life at an internment camp. After the war, he studied photographic techniques at the Institute of Design (also known as New Bauhaus) in Chicago, and further trained his sense of shape that would become the foundation of his work. Later became highly regarded for works rediscovering the modernism of the Katsura Imperial Villa, and widely known for photographs depicting numerous works of Japanese leading architects including Tange Kenzo, Kikutake Kiyonori, Isozaki Arata and Naito Hiroshi.
upper: Self Portrait 1975, gelatin silver print
lower: Chicago, Little Ones 1959-61, gelatin silver print
©Kochi Prefecture, Ishimoto Yasuhiro Photo Center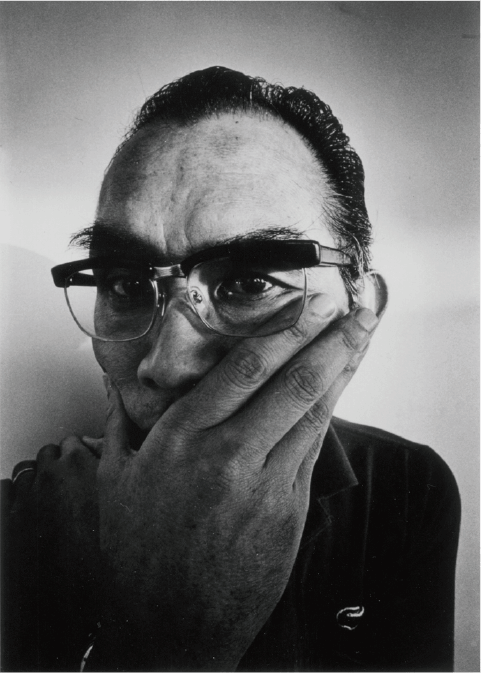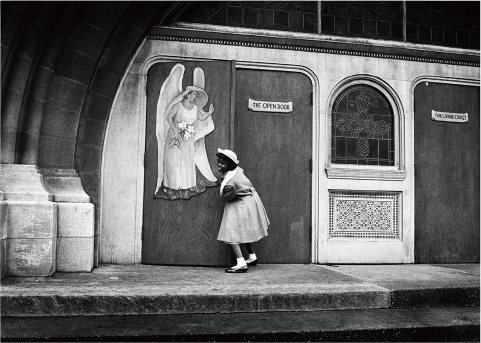 Marc Chagall Collection
In 1993, when the Museum of Art, Kochi opened its doors, the museum received a donation of more than 800 prints by Marc Chagall from the businessman Okawa Isao. From there the museum continued to collect Chagall's works, and has built an internationally regarded collection that includes at this point five oil paintings and approximately 1,200 prints.
Marc Chagall
1887-1985
Born into a Jewish family in Vitebsk in a part of Czarist Russia that is today the Republic of Belarus. While living in Paris from 1911 until 1914, he formed private friendships with poets Cendrars and Apollinaire. While influenced by the spatial effects of Cubism, and the vivid colors of the likes of Delaunay, he developed his unique fantastic style based on images from his childhood memories. A one-man exhibition of his works was held in 1914 at the Galerie der Sturm in Berlin, after which he maintained his connection to the gallery, and went on to inspire the movement of German Expressionism. He overcame various hardships such as the two world wars and the persecution of Jews by the Nazi regime, exile in the USA, and the death of his beloved wife Bella, his main source of inspiration, and increasingly dedicated his time to his painting activities.
Expressionist Art
Since its opening, the museum has continuously built a collection of works from the genres of Expressionism and Neo-Expressionism (new painting). Introduced below are a number of artists/works from the museum's collection that primarily represent the genre of German Expressionism.
This radical artistic movement in the first half of the 20th century unfurled around the two central groups Die Brücke and Der Blaue Reiter, and further developed into the Staatliches Bauhaus school and Viennese art.
Wassily Kandinsky
1866-1944
Born in Moscow, and studied in Munich from 1897. Here he established the Neue Künstlervereinigung München, which served as a foundation for Der Blaue Reiter, another group he founded in 1911 with the likes of Franz Marc. This was also the time when he made his first abstract paintings. In 1913, he participated in the first "Herbstsalon" in Berlin, and in 1922, was summoned to Bauhaus in Weimar to teach as a "master of form." He exiled to France in 1933, and continued to live and work in Paris until his death in Neuilly-sur-Seine.
Composition 1922, lithograph on paper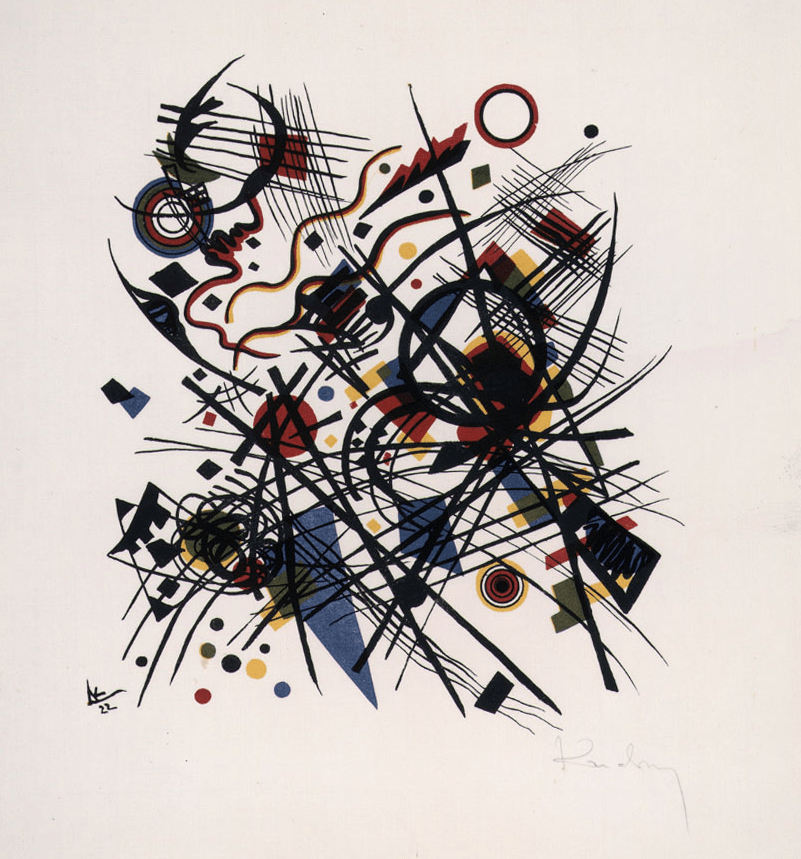 Paul Klee
1879-1940
Born in Münchenbuchsee in the outskirts of Bern, Switzerland. Joined Der Blaue Reiter in Munich in 1912. A journey to Tunisia in 1914 inspired his new perception of colors that served as a foundation for the unique style he went on to develop. He worked as a "Meister" at Bauhaus from 1920 until 1931, when he started teaching at the Dusseldorf Art Academy. When his teaching was politically restricted after the takeover of the Nazi regime, he returned to his hometown, where he continued to work while suffering from illness. He died in Muralto/Locarno.
Homeland 1929, oil and watercolor on paper mounted on canvas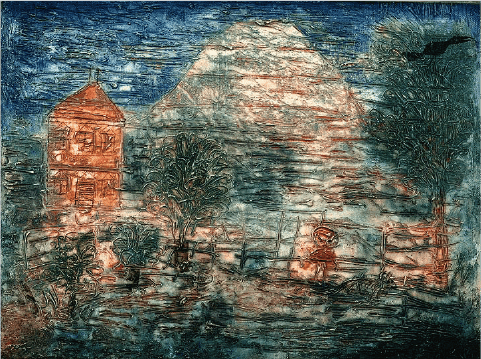 Max Pechstein
1881-1955
Born in Zwickau, Germany. Moved to Dresden in 1900, where he studied at the local art academy. Joined Die Brücke in 1906. After relocating to Berlin in 1908, he was expelled from Die Brücke for breaking his agreement in 1912. He became a member of the Preußische Akademie der Künste in 1923, but was persecuted as a "degenerate artist" under the Nazis. After gradually shifting his painting style from an expressionist to a more ornamental style, he eventually succeeded as a moderate academic painter. He died in Berlin.
In the Wood 1919, oil on canvas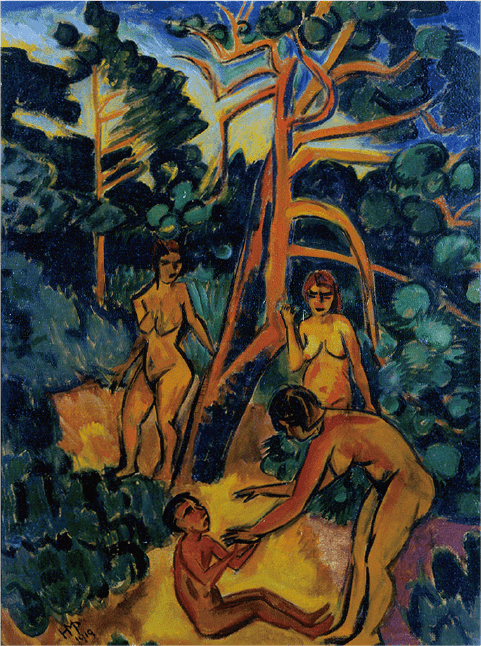 George Grosz
1893-1959
Born in Berlin, studied art in Dresden. Joined the Dadaists toward the end of World War I, and was also inspired by the Futurist movement. From around 1923, his style became rather concrete, and his inclinations toward the "New Objectivity(Neue Sachlichkeit)" movement started to show. Following an invitation from the Art Students League, he relocated from his longtime home in Berlin to New York in 1933, where he took a teaching position, and eventually acquired American citizenship in 1937. At the same time, in Germany he was branded as a "degenerate artist," as a result of which he was deprived of his German nationality in 1938. In the later years of his career, he mainly preferred allegorical forms of expression. He died in 1959 in an accident after drinking during a temporary stay in Berlin.
Lotte in Green 1926, oil on canvas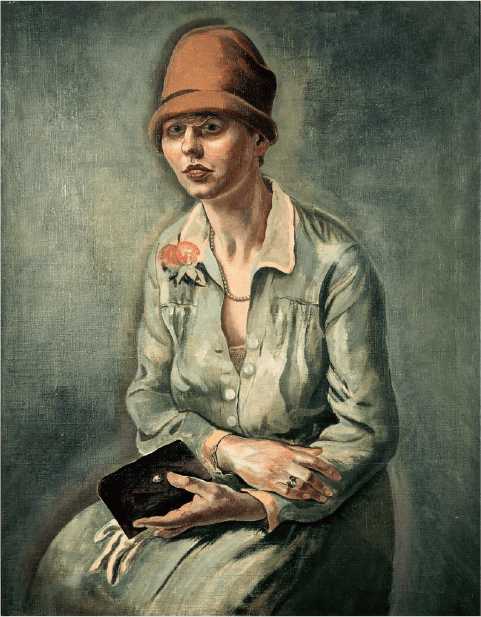 Artists from or related to Kochi
Being the only prefectural art museum in Kochi Prefecture, we consider the collection and conservation of art from the region to be one of the museum's primary missions. The museum continuously collects works by artists from or related to Kochi, who have been active between the modern and the present age.
Nakayama Koyo
1717-1780
Mid-Edo period literati painter, calligrapher and composer of Chinese poems. Born the second son of the merchant Awaya in what is today a part of Kochi City. He is said to have studied painting under Sakaki Hyakusen, a nanga painter from the Southern School of Chinese painting (aka literati painting) in Kyoto. From the age of 42 he was active in Edo (Tokyo), and became regarded as a pioneer of what came to be known as "Kanto nanga". As a painter specializing in depicting human figures, he portrayed Chinese people according to his own interpretation. His disciple in Edo was Watanabe Gentai, the mentor of Tani Buncho. His numerous publications include the travel accounts "Oyu nichiroku" and "Atami Kiko", as well as writings on painting and poetry such as "Gatan keiroku" and "Kanga hyakutan hiko".
Drunken Poet, Li Bai 1767, color on silk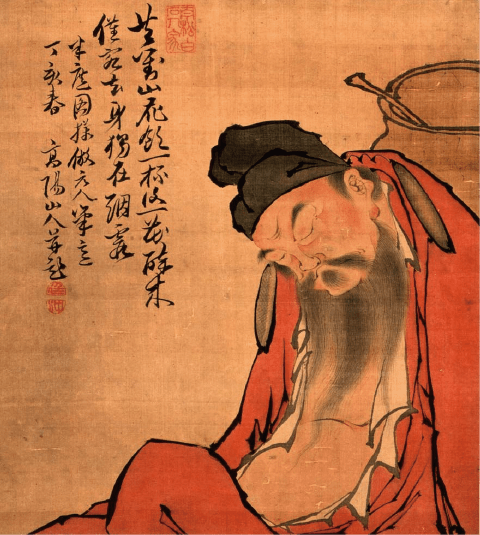 Hirose Toi / Ekin
1812-1876
Born in what is today a part of Kochi City. Commonly known as Kinzo. Studied Kano school painting in Tosa, and later went to Edo (Tokyo), where he studied under Maemura Towa, a painter for the Tosa domain. He received a name of "Toi-go" (title named after the painter Maemura Towa) and became an official "goyo-eshi" for the Toma clan, the chief retainer of the Tosa domain, but it is said that he eventually lost his position due to a "counterfeit case," and was downgraded to a common painter. The style of "shibaie byobu" that Ekin established was dedicated to local festivals, and the tradition of putting these picture folding screens up at every festival is still active today. The nickname "Ekin," which is short for "Eshi Kinzo," also became a popular expression to refer to painters (eshi) in general.
Ekin school 's "shibaie byobu" Play Painting (A Prostitute's House) color on paper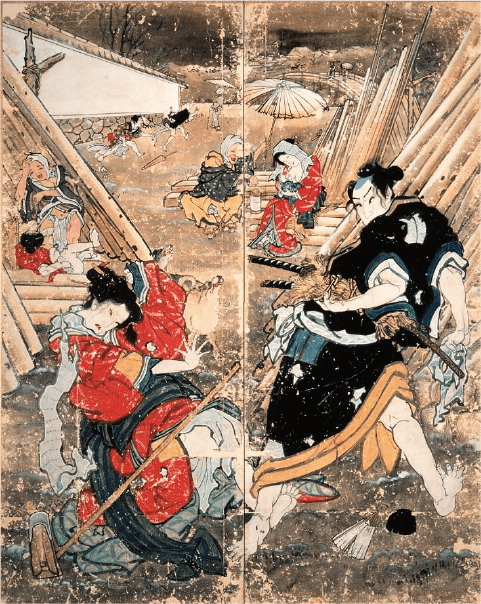 Kawada Shoryo
1824-1898
Born in what is today a part of Kochi City. After studying under the nanga painter Shimamoto Rankei in Tosa, he went to Kyoto to study Kano school painting under Kano Eigaku, and "nanga" under Nakabayashi Chikuto. He also authored Hyosonkiryaku, an illustrated record of the Tosa domain samurai's investigations on Nakahama Manjiro (John Manjiro), who had returned to Japan from the USA. Maintaining a master-disciple kind of relationship to Ekin, he is known for adopting a variety of styles including that of "shibaie byobu" pictures folding screen, and creating numerous portraits painted in clean and steady brushstrokes, as well as depicting sceneries of Meiji era Tosa. He also exerted himself for the training of younger generations in Kochi at the time.
A Beauty 1854, color on silk

Yamamoto Shoun
1870-1965
Born in what is today a part of Nankoku City. Studied under Tosa painters Yanagimoto Toso and Kawada Shoryo, and after temporarily working in Osaka, went to Tokyo in 1888 to study under nanga painter Taki Katei. He instantly gained fame with his illustrations in the magazines "Fuzokugaho" and "Tokyomeishozue" under the alias Shokoku, and while continuing to work as a news illustrator, at the end of the Meiji era he created numerous series of multicolored woodcut prints following the "division of labor" tradition that had been carried on since the Edo period. In addition to exhibiting Japanese-style paintings at the Bun-ten exhibition by sponsored by Ministry of Education, he was also active as a member of the Doyo Bijutsukai. He is primarily known for his skilled depictions of pretty, modern females.
Unconcerned from the series of "Present Forms" 1909, woodcut on paper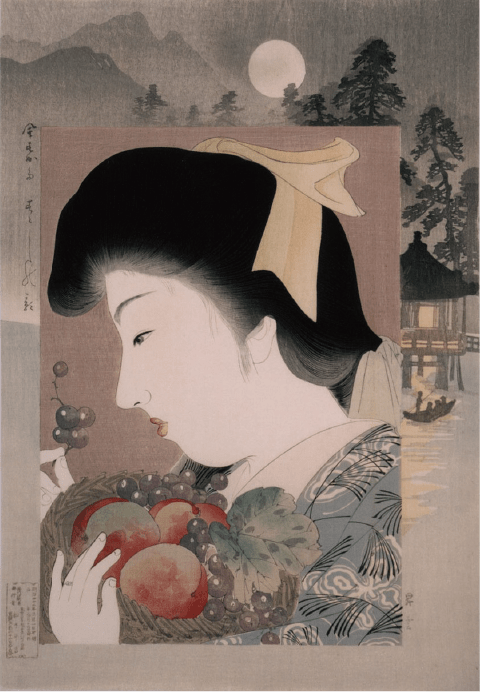 Ishikawa Toraji
1875-1964
Born in Kochi City. After learning the basics of painting from Uemura Shokun, he went to Tokyo in 1891, and entered Koyama Shotaro's Fudosha school. He first presented his works at the 5th Meiji-Bijutsukai exhibition in 1893, and continued his activities as a Western-style painter mainly at such exhibitions as Taiheiyogakai or Bun-ten. From 1902 until 1904, he traveled around Western countries, and went on sketching trips not only within Japan but also to Taiwan, China and Ryukyu (now Okinawa) from his early years, producing large numbers of sketches. He exercised his talents also in woodcut printing, and created his most well-known work, "10 Nudes," a depiction of modern females, in cooperation with carvers and printers. During the Pacific War, he was dispatched to the south, where he captured battlefield scenes in sketches and war paintings.
Gaze 1931, oil on canvas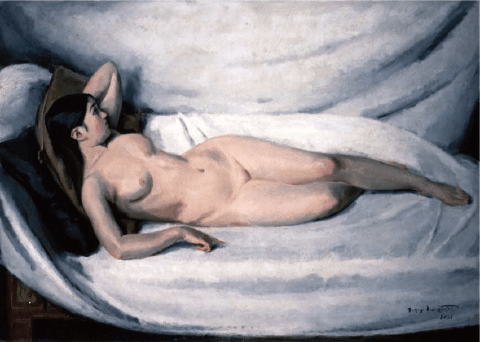 Yamawaki Shintoku
1886-1952
Born in Kochi City. His works were selected for the first Bun-ten exhibition in 1907, and also featured at the "Hakubakai" exhibition. In 1909, his impressionist-inspired "Teishaba no asa (Railway station in the morning)" received an honorable mention at the third "Bun-ten," and earned him praise from the likes of Bernard Leach and Takamura Kotaro as the "Japanese Monet." He relocated to Paris in 1925, and came back to Japan in 1929, soon after which he eventually returned to Kochi City, where he lived and worked for the rest of his life. As a "Kenten" (the Kochi Prefecture Art Exhibition) jury member who was also involved in the exhibition's establishment, he continuously engaged in the promotion of local art.
Nihonbashi Bridge at Dusk 1917, oil on canvas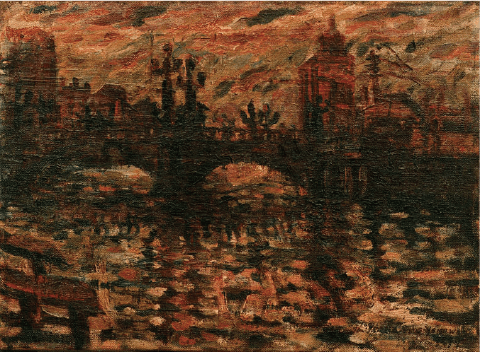 Hijikata Hisakatsu
1900-1977
Born in Tokyo. Enrolled at the sculpture department of the Tokyo Fine Arts School (now Tokyo University of the Arts) in 1919, from which he graduated in 1924. From 1929 until 1942 he lived with the local people on the Palau Islands in the Micronesia area, where he continued to create paintings and wooden sculptures, while at once teaching sculpting in schools across the islands. As part of his ethnological studies during his stay, he collected traditional arts, myths and legends from Palau and Satawal, and left behind a legacy of important documents that serve as an introduction to the South Sea culture at the time.
Cocky Island Boy 1965, nickel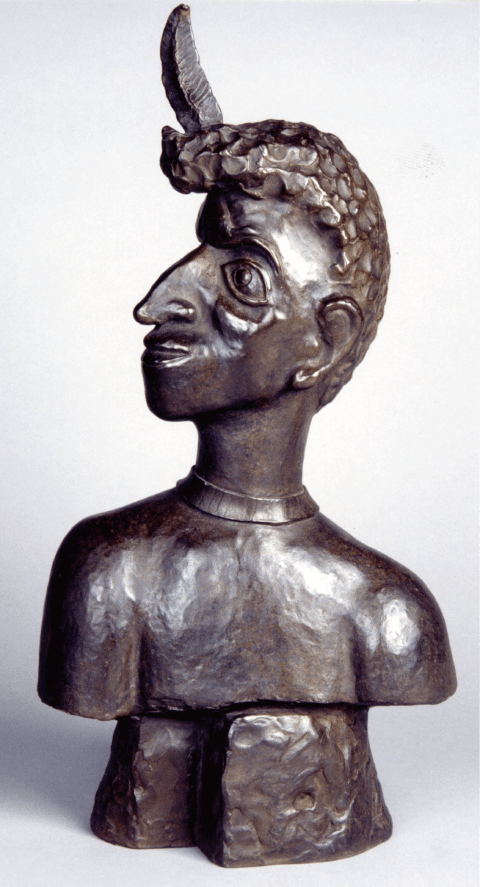 Imanishi Chutsu
1908-1947
Born in what is today a part of Shimanto-cho. Went to Tokyo to study at Kawabata gagakko (Kawabata Painting School) in 1928. Initially creating landscape and still life paintings in the style of Fauvism, he later encountered the formative concepts of Cubism through Kawaguchi Kigai, and from around 1934, began to paint indoor sceneries, still lifes, nude sketches and oil paintings with geometrically simplified shapes. In 1935, a one-man show of his works was held at the Pablic hall in Kochi. In his later years, his style shifted toward figurative painting in reference to Paul Cézanne.
Green Still Life 1940, oil on canvas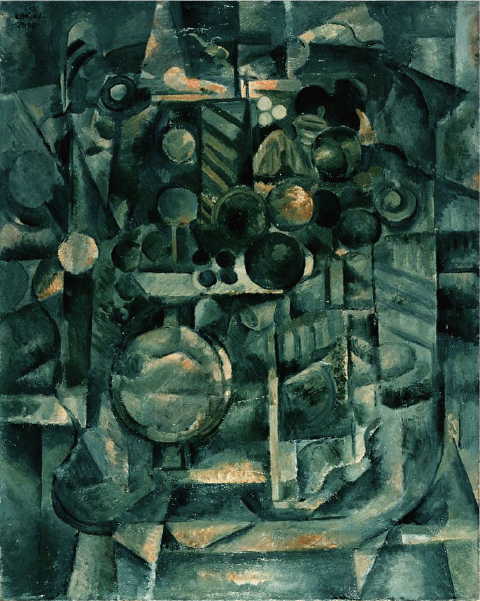 Takasaki Motonao
1923-2017
Born in what is today a part of Kami City. Graduated from the sculpture department of the Tokyo Fine Arts School (now Tokyo University of the Arts) in 1949. Received the Modern Art Association's newcomer prize in 1954. He formed the local Art collective Zen'ei Tosa-ha, integrating Hamaguchi Tomiji's Shinsho Tosa-ha, in 1962, and in 1963, presented his most well-known "Apparatus" series of works on square pieces cut out from white canvas. His works were featured at the first Japan Art Festival (New York) in 1966, and at that occasion he became a member of The Gutai group. While continuing to show works at the Kochi Prefecture Art Exhibitions and the Kochi City Exhibitions, he participated in various exhibitions in Japan and abroad, and received the Kochi Prefecture Cultural Award in 1995. He is also known for his longstanding work as a teacher at Tosa Junior and Senior High School. The Museum of Art, Kochi showed a solo exhibition of his works in 2017.
Apparatus  1964/1996  white linen fragments on board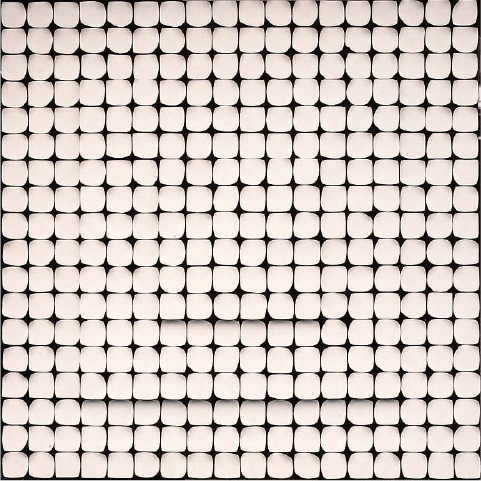 Okanoue Toshiko
1928-
Born in Kochi City, but later moved to Tokyo. While enrolled at the design department of Bunka Gakuin, around 1950 she began to create collage works by cutting out images from western magazines that the occupation forces had left behind. In 1953, Okanoue's exhibition was held at Takemiya Gallery, and her works were also featured at the "Abstract and Surrealism" exhibition at the National Museum of Modern Art, Tokyo, however her marriage in 1957 led her to discontinue her work as an artist. She moved to Kochi City in 1967. In 2000, her first exhibition in 44 years was held at the Dai-ichi Life South Gallery in Tokyo, which triggered a gradual re-evaluation of her work, and was followed by shows at the Museum of Fine Arts, Houston, USA in 2002, and at the Museum of Art, Kochi in 2018.
Invitation 1955, collage on paper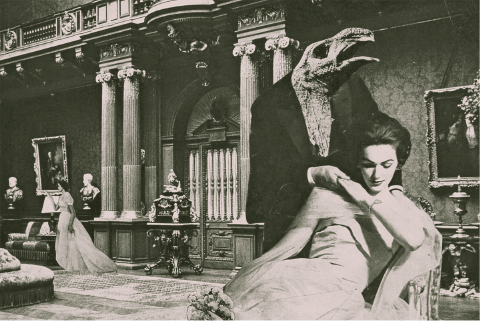 Okutani Hiroshi
1934-
Born in Sukumo City. Was first selected to participate in the 26th Dokuritsu Bijutsu Kyokai in 1958, after which he continued to show his works at this exhibition. Graduated from the oil painting department of the Tokyo University of the Arts in 1959. In 1967, he became the first artist to receive an overseas study grant from the Ministry of Education, and spent one year studying in several European countries. His works were featured in numerous exhibitions in Japan and abroad, and in 1983, he received the 33rd Minister of Education Geijutsu Sensho (Fine Arts Prize). He was also awarded a Medal with Dark Blue Ribbon in 1985, and published a collection of his works in the book Okutani Hiroshi in 1992. In 2001 he started teaching oil painting as a guest professor at the Tokyo University of the Arts. He received the Order of Culture in 2017, and became an honorary citizen of Kochi Prefecture in 2018.
Painter and Crows 1974, oil on canvas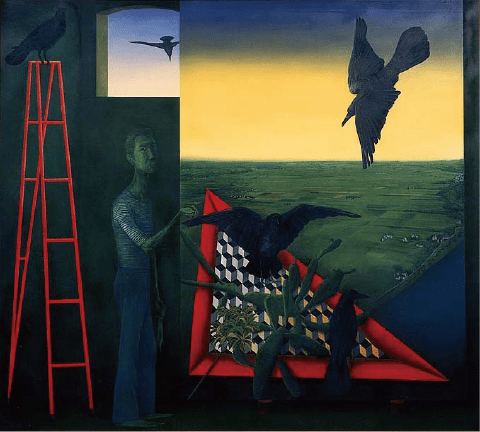 Goda Sawako
1940-2016
Born in Kochi City. Entered the commercial design department of Musashino Art School (now Musashino Art University) in 1959. While still enrolled at the university, she began to create objects from waste materials collected from the street, and had her first exhibition in 1965. A daguerreotype photograph she found by the roadside in New York in 1971 inspired her to paint oil paintings while looking at photographs. Since 1969 she had also designed stage sets and advertising materials for Kara Juro's Jokyo Gekijo and Terayama Shuji's Tenjo Sajiki. Her works from the 1980s onward unfurled across a variety of media, ranging from Polaroid photography to pastel pencil drawing and video, for which she consistently focused on and drew inspiration from such themes as dream-like realities, surrealism and strange similarities.
Halfblood 1975, oil on canvas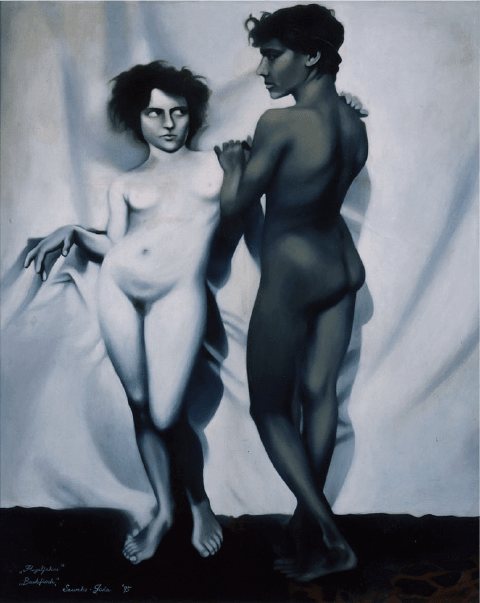 Hiwasaki Takao
1941-1992
Born in Kochi City. Graduated in Western painting department of Musashino Art School (now Musashino Art University) in 1963. Upon returning to his home town in the following year, he was inspired by woodcut artist Onchi Koshiro's book "Nihon no gendai hanga (Japanese contemporary print)" to start making wood engraving prints in a self-taught fashion. He received the Japan Print Association's new face award in 1966, and the Japan Print Association award in the following year. Around 1968, while suffering from severe neurosis, he read "Laozi" and the "Lotus Sutra". Deeply influenced by the concept of "kalpa," he eventually commenced work on his "Kalpa" series that encapsulates his own view of life and the universe. He formed the "Nomi no kai" group of wood engraving artists in 1977, the Kochi Hanga Kyokai in 1990, and was involved in the establishment of the Kochi International Triennial exhibition of prints.
KALPA - Night 1972, wood engraving on paper