exhibitions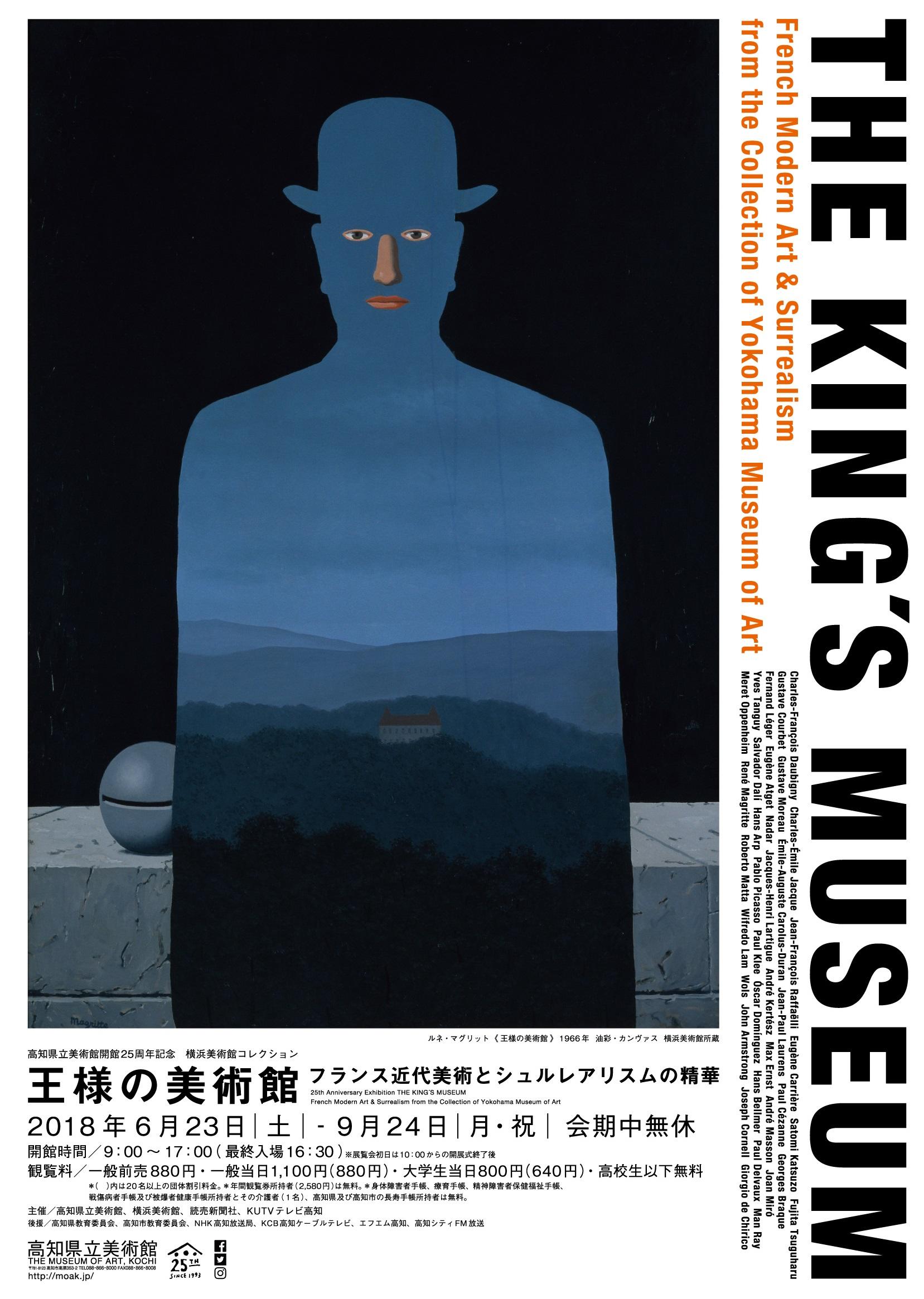 PAST
French Modern Art & Surrealism from the Collection of Yokohama Museum of Art

THE KING'S MUSEUM

Sat. 23 Jun. 2018 - Mon. 24 Sep. 2018

09:00-17:00 (last entry - 16:30)
*The exhibition on the first day starts after the opening ceremony that is scheduled at 10:00.

Organizers:
The Museum of Art, Kochi; Yokohama Museum of Art; The Yomiuri Shimbun; TV Kochi Broadcasting

Sponsors:
Kochi Prefectural Board of Education; Kochi Municipal Board of Education; NHK Kochi Broadcasting; KCB Kochi Cable TV; FM Kochi; Kochi City FM

Admission fee:
Adults - JPY 1100 (Advanced Tickets JPY 880), University Students - JPY 800 (JPY 640), High School Students and Below - Free
Contents
Since its inauguration in 1989, the Yokohama Museum of Art has operated as one of our country's representative art museums. An art museum befitting of the international seaport city of Yokohama it is situated in, the museum is known for collecting and displaying at its core a wide range of modern and contemporary art from after the opening of the port in 1859.
Making up a notably extensive portion of these are the French contemporary art pieces, and at its core, a collection of surrealist artworks. This artistic movement that focuses on the dreamy and illusionary, began in the 1920s and spread throughout the world, becoming the largest trend of the 20th century. This movement was also introduced to Japan by Kawaguchi Kigai and Fukuzawa Ichiro, who had gone to France during this period, and greatly influenced their contemporaries. In this exhibition, you will be able to see masterpieces by some of the biggest names in surrealist, including Dalí, Magritte, Delvaux, Ernst, all under one roof.
In addition, the photograph collection here in Yokohama, one of Japan's cradles of photography, contains representative works by master photographers such as Nadar, Lartigue, Kertész that showcase the history of photography. In the hands of these famous photographers, familiar street corners of Paris are transformed into sceneries filled with mystery. Visitors can fully immerse themselves in surrealism of photography with this exhibition.
This art exhibition borrows its name, "The King's Museum", from one of the pieces on display: an enigmatic work by Magritte. Magritte's "The King's Museum" is a mysterious work that seduces its viewers into another world, but there is no greater mystery than its title. Nevertheless, it is the depth and color, created by the unique juxtaposition of an unfathomable title and the painting itself, making it the symbol of this exhibition.
Won't you surrender yourself gracefully to the eternal mystery of beauty, just like a king?

Related Events
● Commemorative Talk in Japanese
In order to commemorate the opening of this exhibition, Osaka Eriko, Director of the Yokohama Museum of Art and Fujita Naoyoshi, Director of the Museum of Art, Kochi will talk about the future of art museums.
Date and Time: 23 June (Saturday), 11am
Venue: 1/F Lecture Room
*For the first 50 people. Free-of-Charge.
● Special Lecture in Japanese
"From The Last Carolingian Throne to The King's Museum: The Allure of the Yokohama Museum of Art Collection"
Lecturer: Nakamura Naoaki, Head Curator, Yokohama Museum of Art
Date and Time: 19 August (Sunday), 2pm
Venue: 1/F Lecture Room
*For the first 50 people. Free-of-Charge.
● Gallery Tour by the Curators-in-Charge in Japanese
Dates and Times: 2pm, on the following Sundays: 24 June, 8 July, 22 July, 5 August, 12 August, 26 August, 9 September, and 23 September
Meeting Point: Entrance to Exhibition Room 2, 2/F
*admission ticket required
● Gallery Tour in Japanese with English Interpretation
Date and Time: 26 August (Sunday), 2pm
Interpretation provided by: Kochi Prefecture Coordinator of International Relations
● Gallery Tour in Japanese with Sign Language Interpretation
Date and Time: 9 September (Sunday), 2pm
Interpretation provided by: Kochi Prefecture Association for the Deaf

● Teachers' Day
We hereby extend free admission to all teachers in Kochi Prefecture. In addition to enjoying the exhibition complete with gallery tour by the curators, we also offer guidance to schools' usage of the museum. Teachers from all disciplines, not limited to art teachers, are welcome.
Date and Time: 5 August (Sunday), 2pm
Application: Please call 088-866-8000 at least one day in advance
● Free Nursery Service
This is a service provided by babysitters with ACSA-recognized babysitting licenses or nursing licenses. Please feel free to leave your child with the staff while you enjoy the exhibition.
Date and Time: 14 September (Friday) to 17 September (Monday - Public Holiday) (Total four days)
Twice a day (10:00-12:00 and 13:30-15:30)
No. of Participants: 10 people per session (by turnover)
Fee: Free-of-Charge (admission ticket required)
Venue: 1/F Lecture Room
Application: Pre-application by phone, followed by submission of an application form by 7 September (Friday).
Sitters provided by: NPO Mutter Schule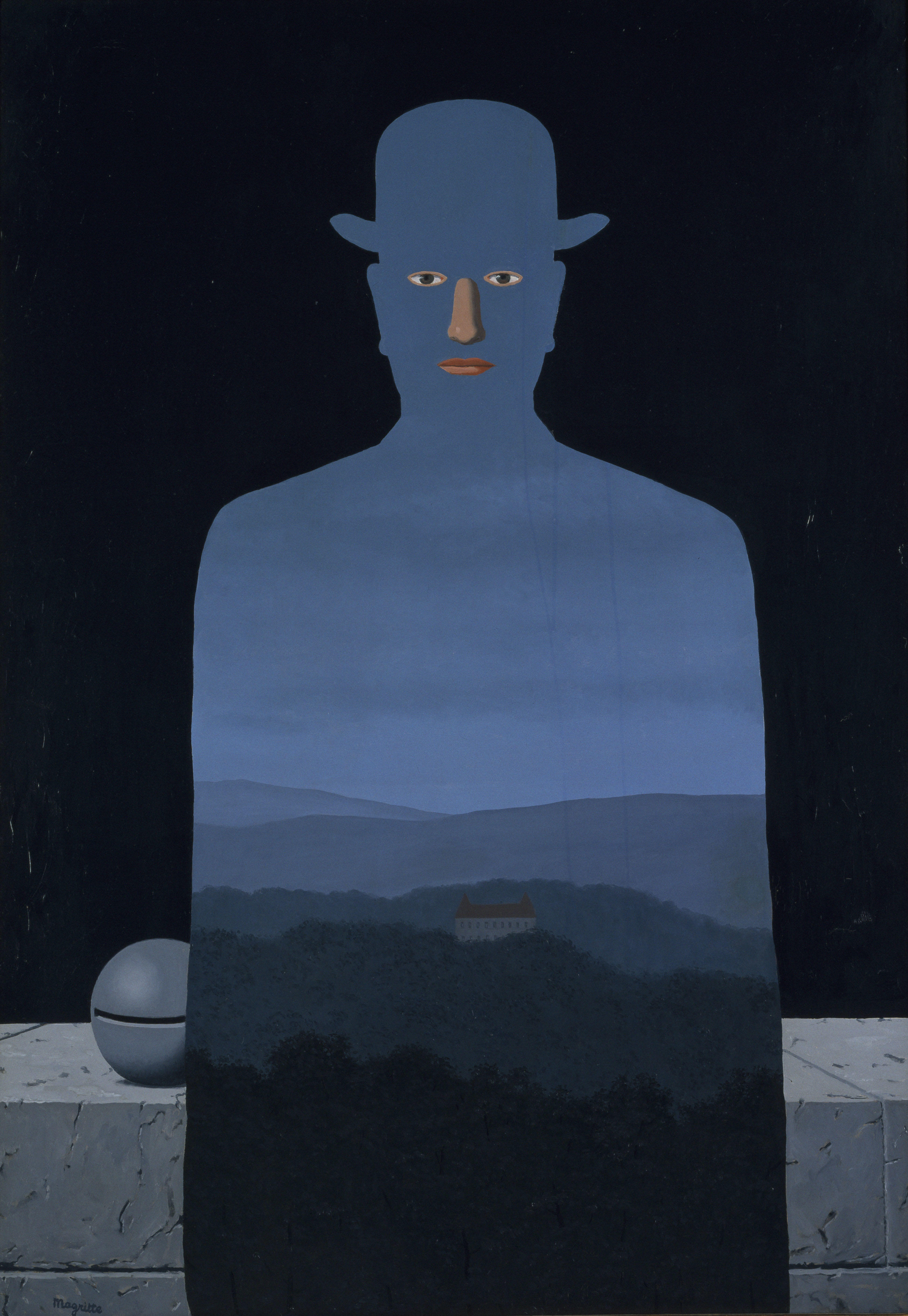 René Magritte The king's museum 1966 oil on canvas

PAST exhibitions